From October 20th to November 20th, despite the advent of the pandemic, the Global Association of Economics Education's regional division in North India (GAEE North India) has launched its signature Month of Microfinance across six college chapters in North India.
According to the North India Team, the curriculum "was decided after several rounds of comprehensive discussions between GAEE North India leaders and six chapters that expressed interests in joining the initiative." It was "aimed at helping all our members to gain insights into the domain of Microfinance."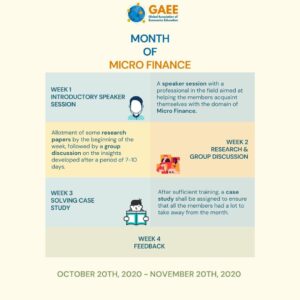 The learning started with an introductory speaker session to acquaint themselves with the subject. Among the speakers were Aayush Goel, the cofounder of Mudrakwik Fintech Private Limited, who spoke about the "Digital Transformation of Microfinance." Following the speaker session, the college chapters were provided with relevant research papers and several other resources to be discussed among their team members. A case study dealing with the challenges faced by the microfinance industry in India due to Covid-19 was developed by the GAEE North India team, which was distributed to the college chapters. Each chapter then conducted a detailed analysis of the case study and submitted a presentation, which focused on specific and actionable policy proposals to the issues.
The initiative was well-received by all six college chapters that participated in the event:
"The microfinance month was really engaging. We found the content to be useful and informative. Also, we had an engaging brainstorming session." – GAEE Hansraj College.
"The material covered all the important topics and facts of Microfinance. The diverse range of materials helped the team, especially the engineering students, to increase their knowledge of the said topic. The case study helped to gauge the interest of the team, which facilitated the smooth functioning of the learning session." – GAEE Delhi Technological University.
"As a team, we at JMC went through the given resources together. The content was engaging and we had a pleasant and interactive session." – GAEE Jesus & Mary College.
"The session went fairly well, students were engaged and interested. The material provided was adequate and helpful." – GAEE Symbiosis School of Economics.
"The submission of the PPTS by the groups was followed by two hours long peer discussion session, where questions were raised and an attempt was made to come up with solutions for the problem statements. It was an enriching and informative session overall." – GAEE Lady Shri Ram College.